10 things I wish I knew before starting out as a Freelance Photographer - Matilde Viegas
10 things I wish I knew before starting out as a Freelance Photographer
As you start out your career as a freelance photographer, you'll need all the advice you can get.
In the spirit of giving, here's a short and sweet list of 10 things I learned in the past 14 years of making photographs. Well actually the list should be called: 10 things I wish someone had told me when I first started.
1. Start simple. One camera and one lens are enough. For an entire decade, 90% of my work was made with a single 50mm lens. This allowed me to focus on everything else besides the gear while learning to use the camera as an extension of myself.
2. You don't need to study photography to be a successful photographer. Go ahead and study something else besides photography, broaden your horizons. I assure you those skills will come in handy.
3. Aim to be in as many diverse situations as you possibly can. This will teach you boundaries, how to work with discomfort, it will test your skills, and it will clearly tell you what you like and don't like. Being able to say no is a skill, remember that.
4. You're not working for that shiny magazine cover, you're building an archive. With everyone else sharing their work and successes online, it's easy to lose track of what you want. When you feel lost, tune in. Then, write your values down in post-it notes and keep them nearby. Your archive will speak volumes in decades time.
5. Surround yourself with people who support you and your work. Being an artist is an extremely vulnerable job. There's a lot of self-judgement and doubt involved, plus you'll have to deal with others' opinions of your work. Take criticism with a grain of salt while nurturing the relationships that make you feel good and valued.
6. Have a life besides photography. I know how obvious this may sound but for the sake of your sanity and health, please, have a life besides photography. Having goals that don't depend on your work as a photographer will offer you a sense of control. There's joy to be had in life, don't forget that.
7. Your body is a tool. Keep it clean, fully-functioning and moisturised. I remember years ago Michelle Groskpf told me she started weight lifting so she could better endure the long hours of work as a street photographer. I took her advice and began strength training. And now I'm telling you to do the same – work!
8. Have a uniform for work. I learned this from Anastasia Taylor-Lind who packs the same items of clothing every time she travels for work. Even though I'm not a war photographer like Anastasia, I like to think of practicality and comfort whenever I dress or pack for your work. I assure you don't want your crisp white shirt getting in the way of making your best work.
9. Give back. Send photographs to those who were willing to be in front of your camera. Give them time and attention. Share something personal about yourself. Hug people!
10. Don't be afraid to support others. Despite what we're told, there's plenty of room for all of us in the industry. Collaborate, make friends who are also photographers, share your shortcomings, talk about money, ask stuff. Help each other out – that's how everyone wins.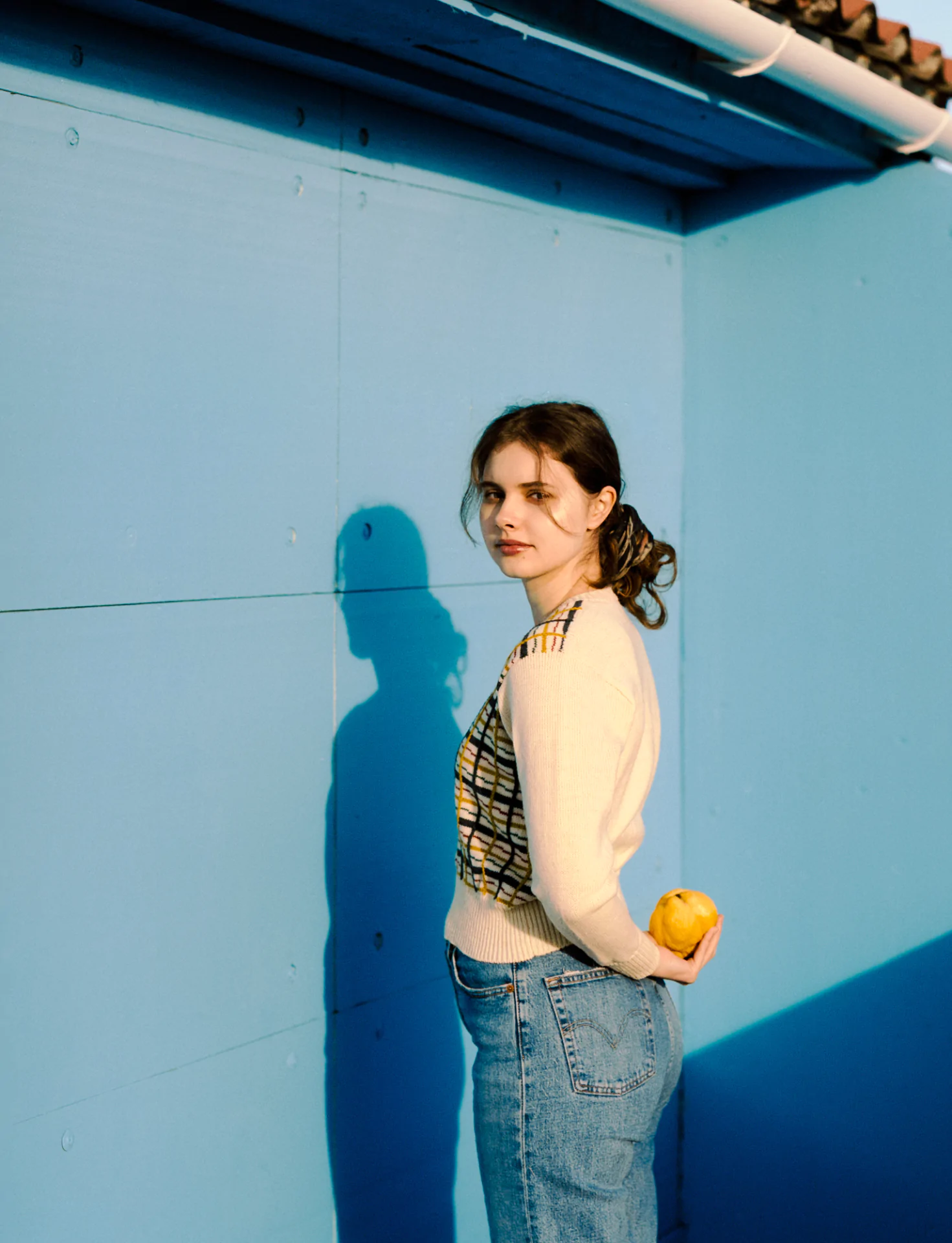 My Domestika Course "Intimate Photography: Capture Emotive Portraits"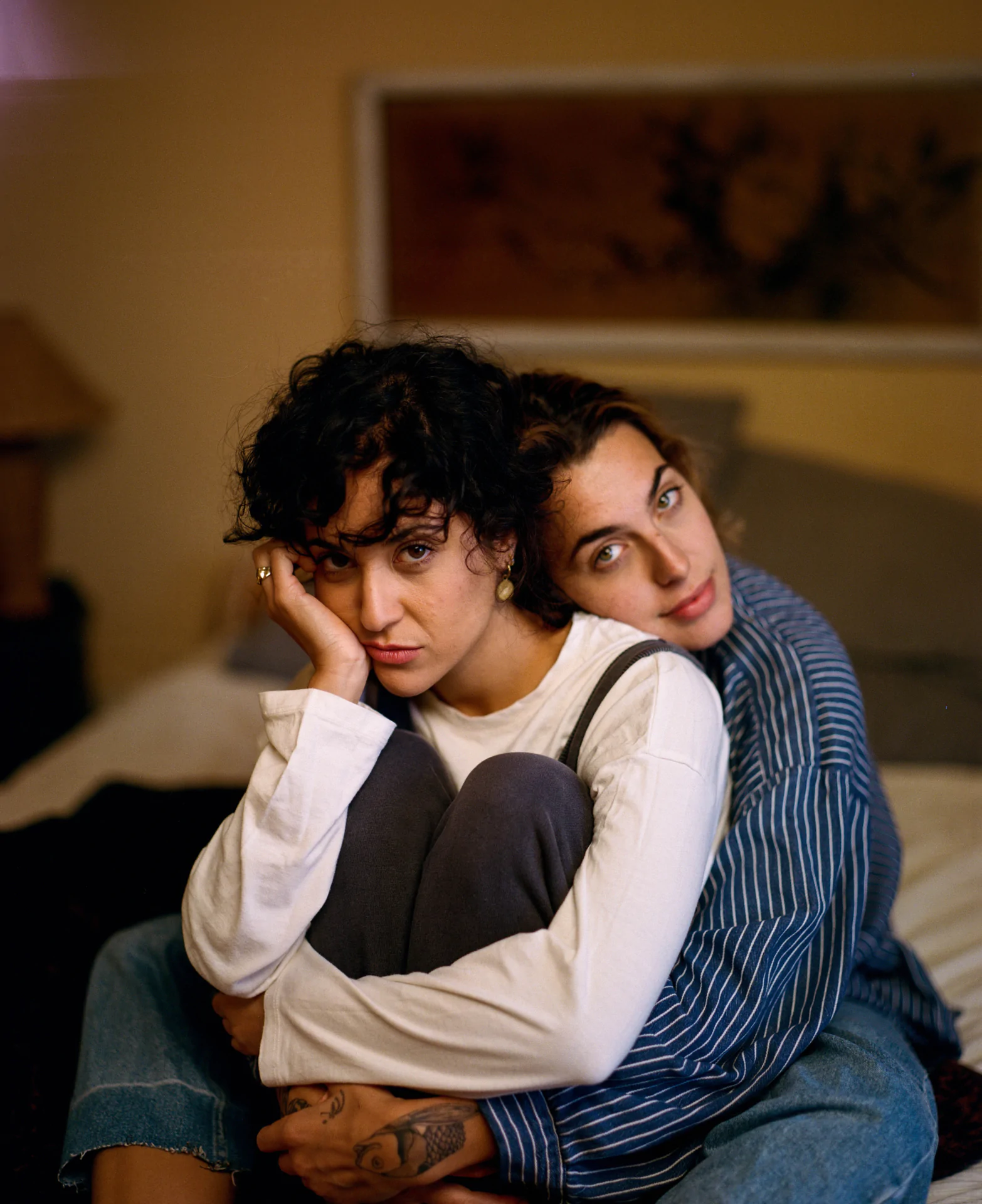 My online course "Intimate Photography: Capture Emotive Portraits" is out! Check it through the link!
For so long I wanted to share with you what I learned over the years. I had planned to one day start doing workshops but they all have limitations – budget, travel, timings, etc – that led me to always question myself: is it really the best medium? Should I instead become a teacher? Do occasional masterclasses=
Mid-July 2021, Domestika reached out to me with a proposal: you can teach whatever you want, and we'll produce it.
For over a year, I researched, wrote scripts for each of the lessons, listed all of the actionable advice I could think of for being a freelancer, and dug deep into my library for the books that have been pillars in my creative path.
Fast forward to September 2022, I flew to their studios in Madrid and began a week of recording classes, sharing my favorite photobooks, and photographing while in a room with a 15 people crew behind me.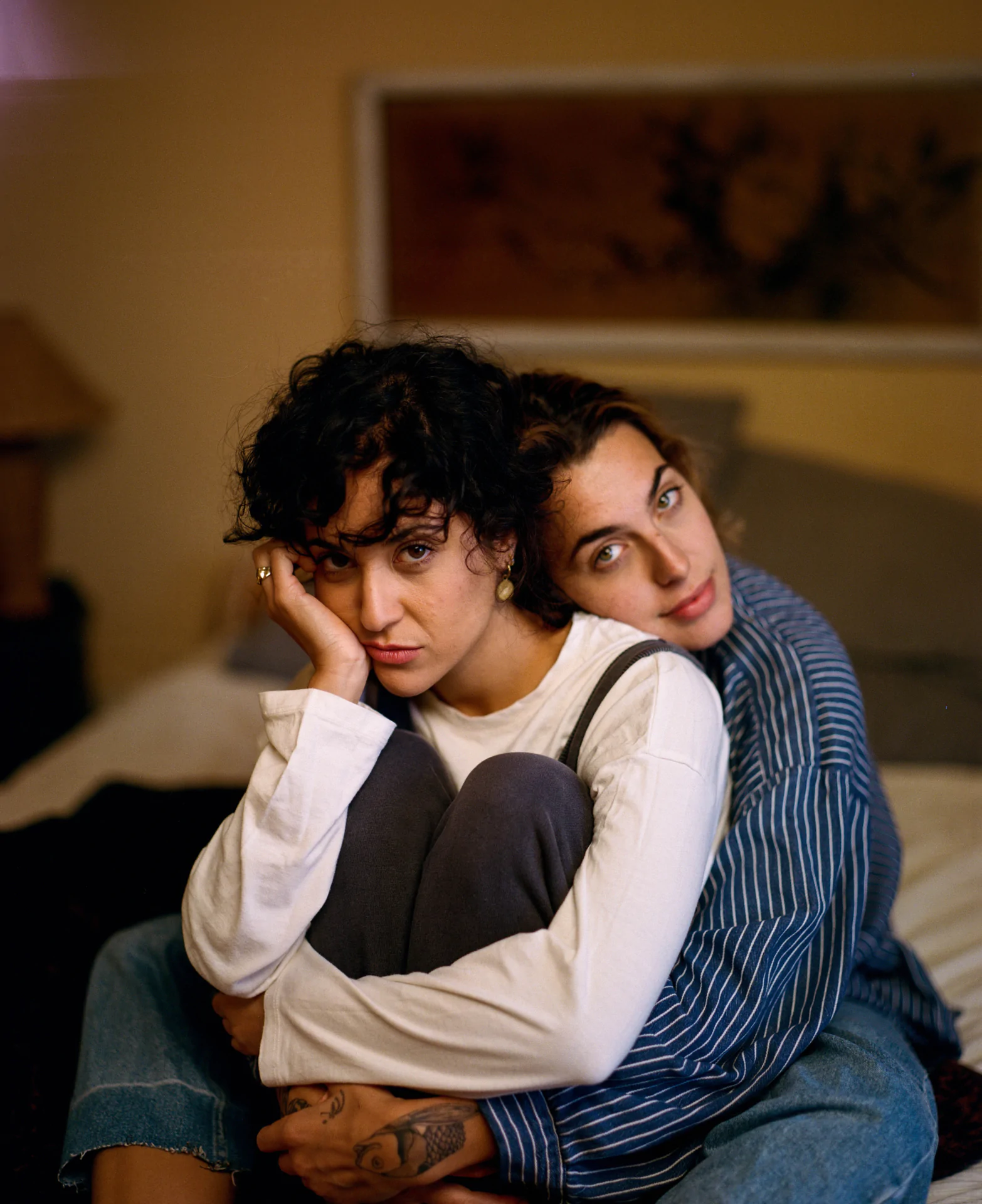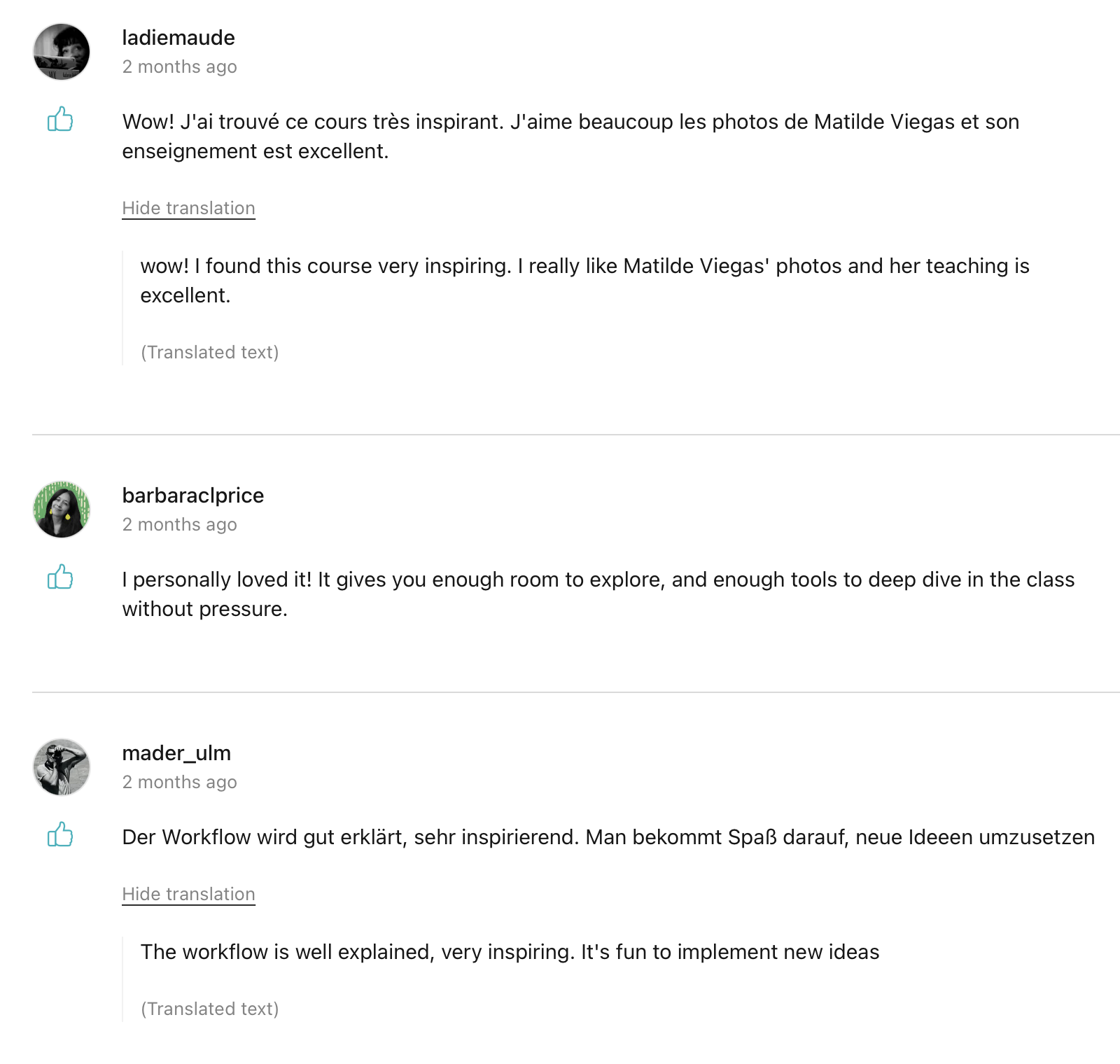 A Farm in Southern Portugal photographed with the Hasselblad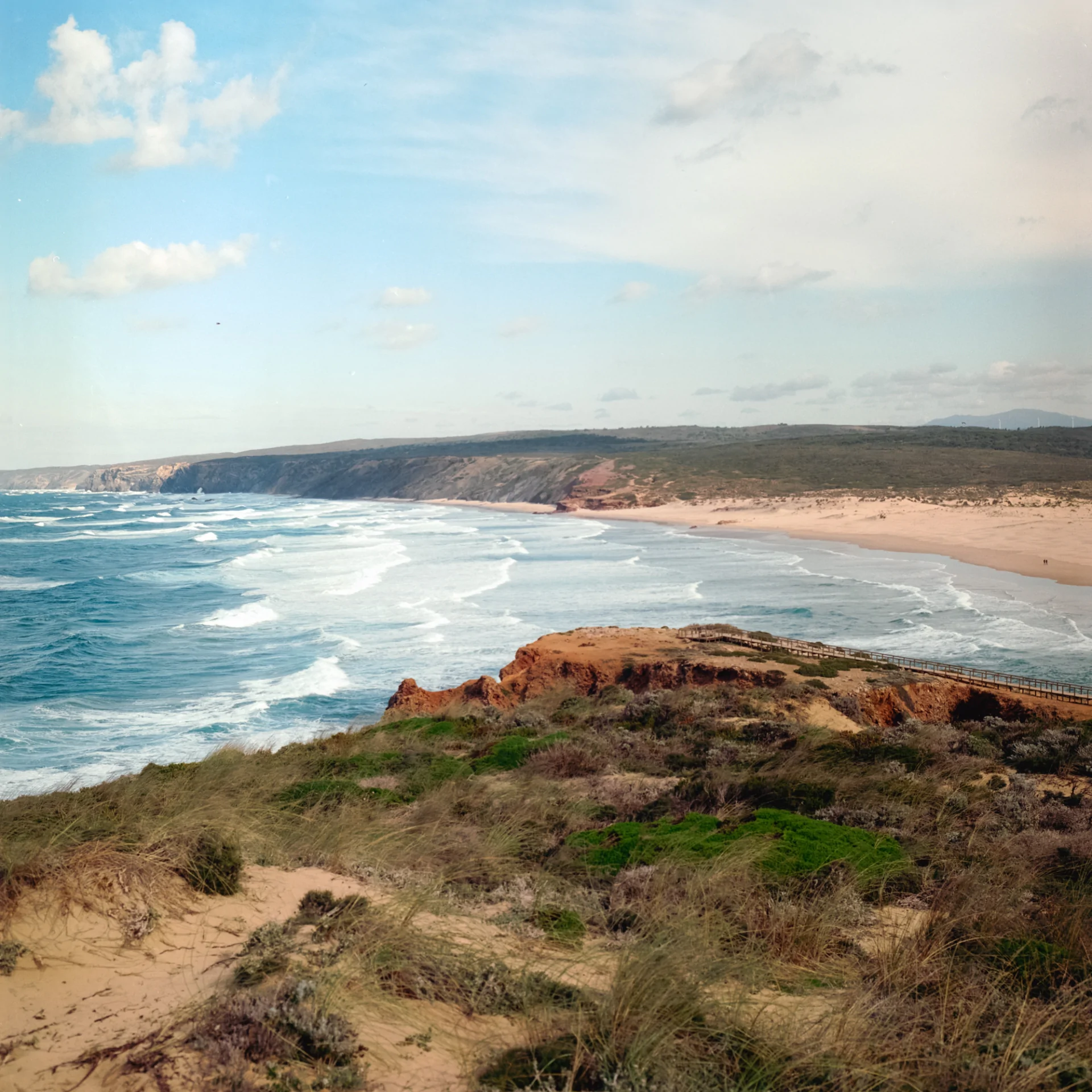 In January 2021, the photo editor Lara Huck sent me on assignment to Southern Portugal for Die Zeit. On a whim, I packed my medium format Hasselblad camera at the last minute.
I was tasked with photographing the wilderness of the landscape, where land meets the Atlantic Ocean, and an emerging group of individuals who were involved in preserving the land while promoting a sustainable approach to agricultural and eco tourism in Algarve.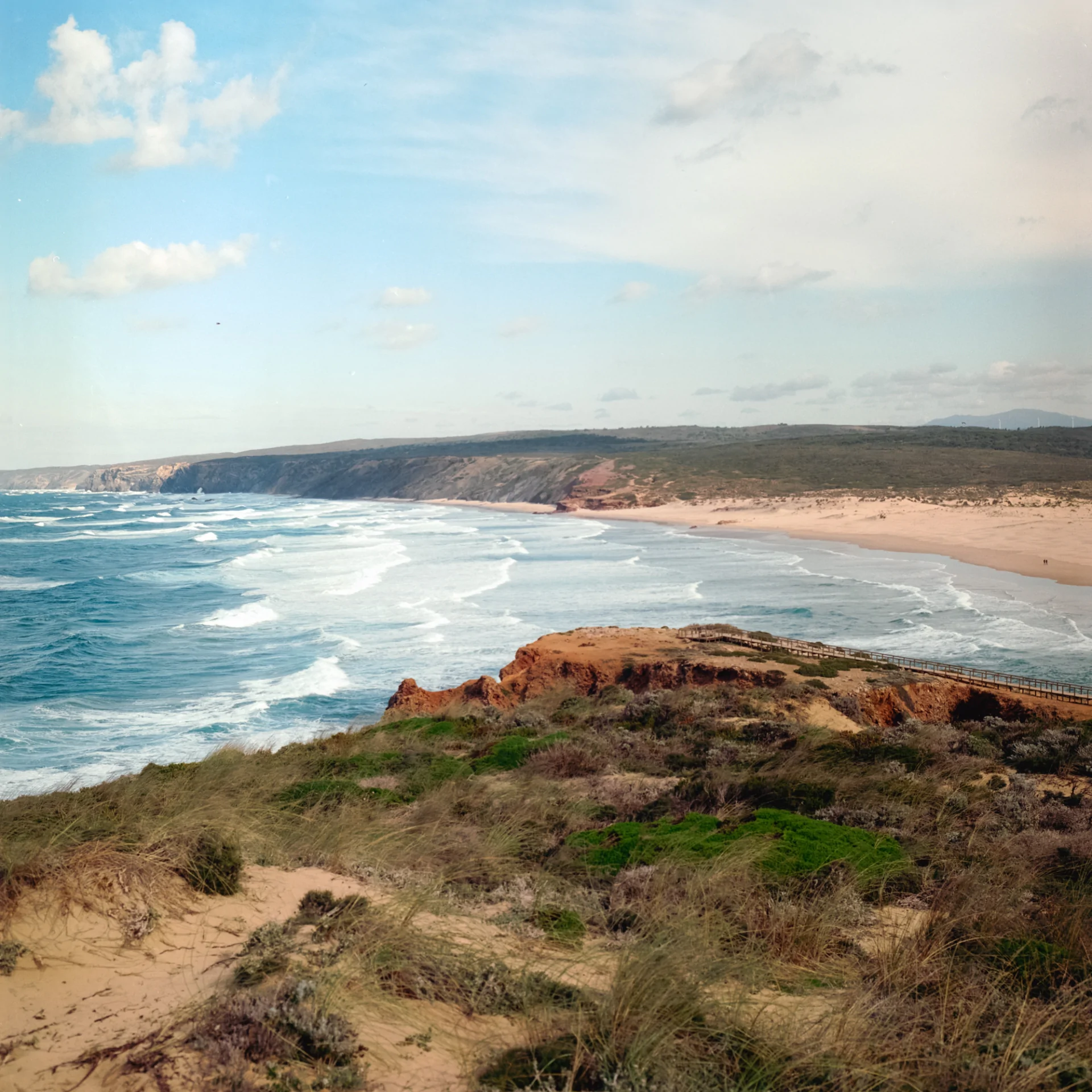 In one of our stops, we met Nídia, a woman who runs a farm all by herself.
There are chickens, hogs, cats, geese and horses, no fences to be seen which means that the animals are free to roam. Nídia believes we must not "own" anything or anyone, and the same applies to the animals she cares for.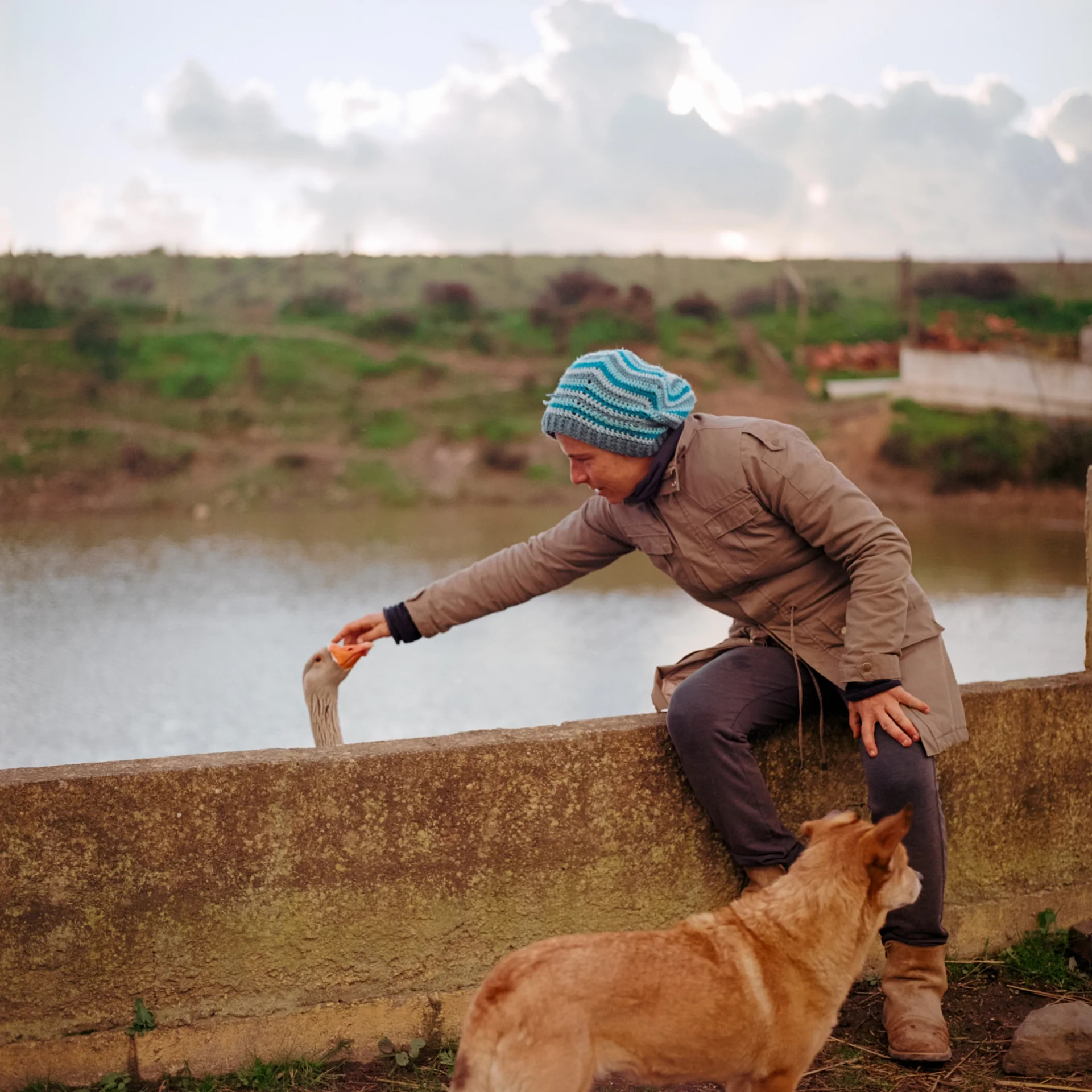 One of her sows made her way to a nearby park and has lived there ever since. Passersby stop by to feed it.
It's given birth to nine hogs who now live there too. This family has become the park's landmark, and every single day someone will show up with food for them. There is even a Facebook group about them, I was told. When I visited the park, I saw this woman, phone in hand, filming the hogs as they feasted on the food she had just brought.